Children's Celebration
2:00 – 6:00
Performances and activities are on Bicentennial Plaza, inside the North Carolina Museum of History and the North Carolina Museum of Natural Sciences. Children 5 years old and under are permitted free when accompanied by a pass-wearing adult.
7:00
What a perfect way to end our Children's Celebration! Don't worry about keeping the kids out too late to ring in 2015 – they can enjoy all of the excitement early in the evening. Join Scythian as well as Chuck Davis of the African American Dance Ensemble as we drop the famous acorn and set off fireworks at 7:00… Read more →
North Carolina "Firsts" Fun Crafts and More
Bicentennial Plaza
SWEET Potato Person
Make a SWEET Potato Person.  Name your new friend anything you wish and smile the night away together!
Community Strong Links
We are all connected as part of our community.  Help build the longest paper chain ever as you decorate and link paper strips together. 
Scrap Exchange
2:00 p.m. – 6:00 p.m.
Hundreds of recycled items will be available to fuel your creativity.  Make a space hat to wear in the parade!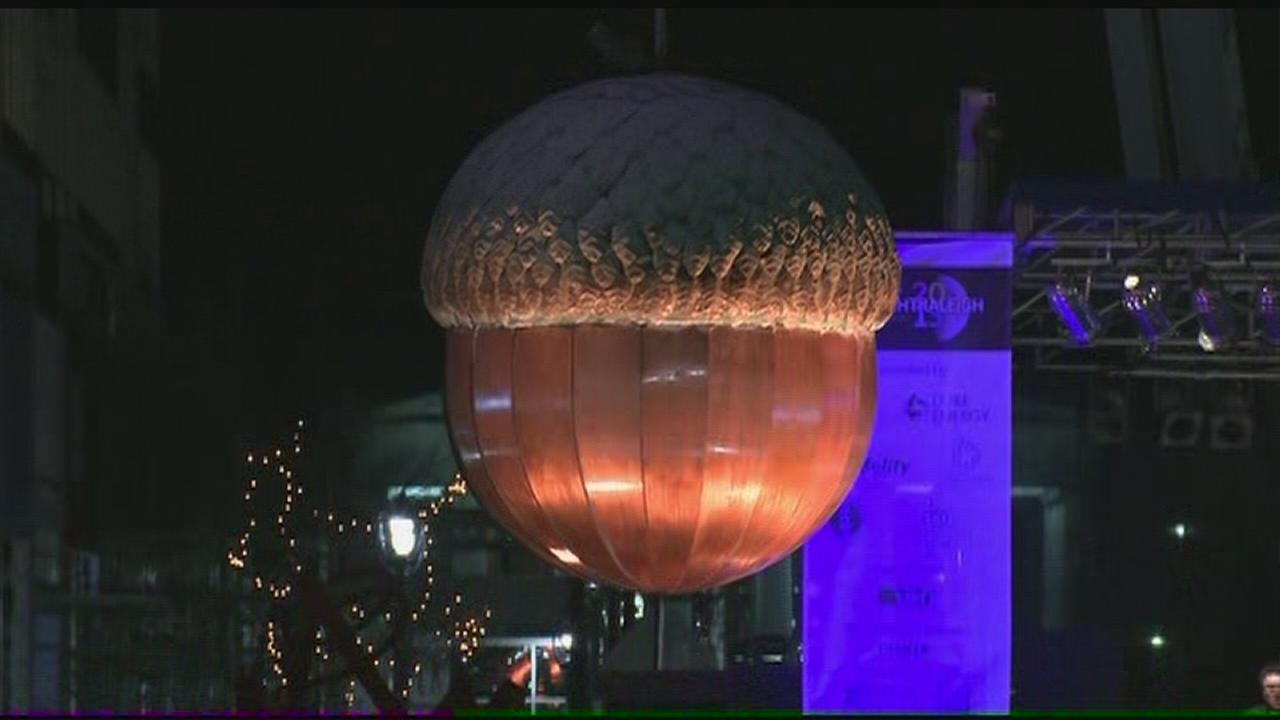 First Night "Twisted Acorn" Game
2:00 p.m. – 6:00 p.m.
Play along with First Night's Own Rendition of the favorite party game "Twister" with an acorn twist!
Resolution Oak
2:00 – 6:00 p.m.
Got a resolution for 2016?  Write it on a "leaf" and addit to the First Night Raleigh Resolution Oak Tree, created by local sculptor Jennifer Van Orden.
Paperhand Puppet Intervention
3:30 p.m.
Before you line up for the People's Procession, enjoy these amazing stilt walking puppet performers roaming on the plaza! 
Durham Street Piano Player
3:30 p.m. – 5:30 p.m.
Street piano player Tom Merrigan takes the piano out of the parlor and onto Bicentennial Plaza just for First Night Raleigh. Read more →
Media Sponsor: City of Raleigh – Raleigh Television Network

N.C. Museum of Natural Sciences
Frame It!
3rd Floor Classroom
Take home a small copy of a masterpiece from the NC Museum of Art.  You create the frame!
The Happy Accidents Enloe High School Improv Troupe
3:00 p.m. – 5 p.m.
1st Floor Lobby
Henna Tattoos
First Floor Lobby
2:00 p.m. – 5:30 p.m.
Join India's own Deepika Bhatt for a beautiful tradition, and just in time to get ready for the New Year!Read more →
Photo Opportunity with North Carolina Firsts
Mountain Cove
3:30 p.m. & 5:00 p.m.
Come and take your photo with a real life North Carolina First.
Animal of the Hour
"Windows On the World" on the 3rd Floor
2:00 p.m., 3:00 p.m., 4:00 p.m. & 5:00 p.m.
Get up close and personal with some of North Carolina's resident creatures.
Recharging Station
Bring your electronic device by and get a CHARGE to keep up with all the action!  Sponsored by Fidelity Investments
Media Sponsor: Cary Magazine 
N.C Museum of History
Dance Dance Dance!
Demo Gallery (1st Floor)
Music and Fun for Party Eve!  Colorful scarves and balls will be used!  Come celebrate 2016!
Toddler Play Area with Arts Together
Longleaf Room Area (Ground Floor)
This special room is designed for our youngest attendees to get out of the strollers and into the fun too!
NC Map Paper Planes
See the state from the air as you make a paper airplane out of old NC maps.
Media Sponsor: Yelp.com
Performances
N.C. Museum of History – Daniels Auditorium
Raleigh Little Theatre Storytellers  
3:00 p.m.
Based on North Carolina native Carl Sandburg's Rootabaga Stories, enjoy these amazing young performers performing the original play for youth, American Fairy Tale.
First Night Raleigh Star Search Winners
4:00 p.m.
Enjoy the vocal stylings of the winners of the First Night Raleigh 2016 Star Search Competition.  Lisa Blair Hawkins directs this dress rehearsal before their appearance on the main stage at 6:30!
Hobey Ford's Golden Rod Puppets "Animalia"
7:30 p.m.
Asheville's favorite puppeteer Hobey Ford's puppets delight audiences with the magical natural world of animals and insects, large and small.
N.C. Museum of Natural Sciences
Andy Griffith Movie Marathon
Auditorium
5:30 p.m. – 7:30 pm
No Time for Sergeants: One of Andy's funniest films.  Join Air Force draftee Will Stockdale in this Ira Levin class classic from 1955.
8:00 p.m. – 10:00 p.m.
A Face in the Crowd: Elia Kazan's 1957 acclaimed searing classic starring Andy Griffith as Lonesome Rhodes. This classic film offers a different view of the scope of Andy's range and talent.
NC Marionette Theatre
Explore on 4th Floor
4:00 p.m.
Tom Benn and Black Beard, the Pirate performed by North Carolina's own Puppet Theatre Company from the Outer Banks of NC.
For complete schedules and more Children's Celebration activities, download the First Night Raleigh mobile app!