DIY Festival & Daytime Activities
Join us from 2:00-6:00pm on New Year's Eve for the new DIY Festival! Learn a new hobby for the new year with our hands-on workshops or talk to the pros about how they honed their craft. There is fun for everyone at the DIY Festival!      
Download a printable .PDF First Night Raleigh 2017 Schedule Arranged BY TIME               
DIY Festival
2:00 – 6:00 pm
Performances and activities are on Bicentennial Plaza, inside the North Carolina Museum of History and the North Carolina Museum of Natural Sciences. Children 5 years old and under are permitted free when accompanied by a pass-wearing adult.
People's Procession & Early Countdown
7:00 pm
What a perfect way to end our daytime DIY Festival! Don't worry about keeping the kids out too late to ring in 2015 – they can enjoy all of the excitement early in the evening. Join Triangle Youth Jazz Ensemble and Shadowgrass, as well as Chuck Davis of the African American Dance Ensemble as we drop the famous acorn and set off fireworks at 7:00 pm… Read more →
DIY Festival Workshops & Demonstrations (By Venue)
Bicentennial Plaza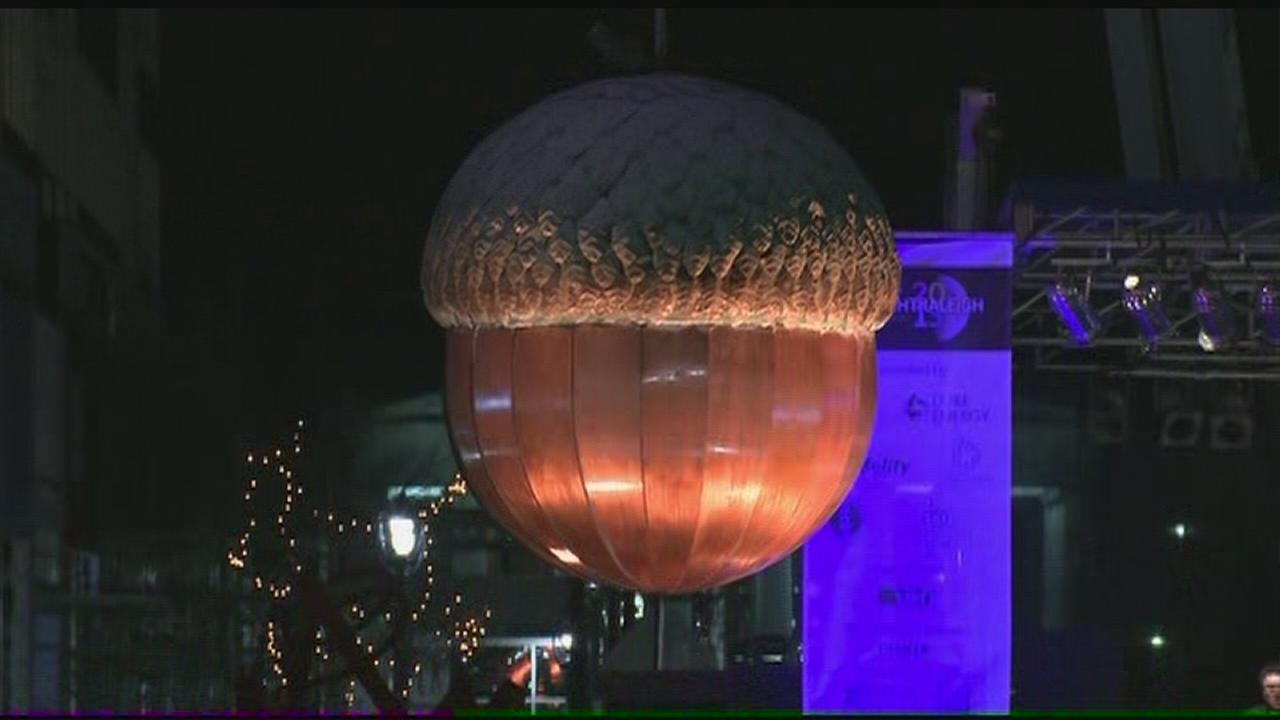 First Night "Twisted Acorn" Game
Play along with First Night's Own Rendition of the favorite party game "Twister" with an acorn twist!
Scrap Exchange
Hundreds of recycled items will be available to fuel your creativity.  Make a space hat to wear in the parade!
Resolution Oak
Got a resolution for 2016?  Write it on a "leaf" and addit to the First Night Raleigh Resolution Oak Tree, created by local sculptor Jennifer Van Orden.
Paperhand Puppet Intervention
A First Night Favorite, the Paperhand Puppet Intervention is a puppet theater company based out of Saxapahaw, NC. For over fifteen years they have been creating original large-scale puppet extravaganzas complete with giant puppets, masks, shadow puppets, stilt dancing, painted flats, live music and so much more! Now YOU get a chance to become the Puppeteer as you wear a puppet head, carry a puppet or just walk with the Puppets during the People's Procession! www.paperhand.org 
Christy's Dance Explosion
This Garner based Dance Studio will perform for our audiences as well as teach you how to dance into the New Year. http://www.christysdancexplosion.com/ 
Pottery Wheel Demonstration
Watch the magic happen as Anne Terry uses her wheel to make pottery. You can make a pinch pot using air drying clay. 
Basket Weaving Demonstration
Help Anne Willson, contemporary basket maker, build a giant basket and see how she makes her art baskets. 
Dance Captain Wanted
YOU are the choreographer—that's right—get on the stage and dance and see what happens next! DIY! 
Super Skippers
Watch the award winning group of Cary super jumpropers take over the plaza! http://www.superskippers.org/ 
Urban Sketchers
Sketch the city with Scott Renk, leader of Raleigh's Urban Sketchers, all levels are welcome. 
Art Piano
YOU become the musician as you play one of our beautifully painted street pianos. Pianos painted by Lisa Gaither and Dare Coulter.
Sponsored by: Mist Twist
Media Sponsor: City of Raleigh – Raleigh Television Network

Exchange Plaza
Southeast Raleigh High School Robodogs
See the award winning robots built by students at Southeast Raleigh Magnet High School! Live and in action from 2-6pm.
N.C. Museum of Natural Sciences
Woven Bracelets Workshop
Darlene Williams will guide you to make a bracelet by spinning wool by hand.
Henna by Deepika Bhatt
Ask Deepika to tell you how she started while she creates special Henna Art on you!
Ukulele Lessons with Larry Hutcherson
3:30 p.m. – 5:30 p.m.
Bring your own uke or use one of Artsplosure's. Learn this new skill to take you into the New Year. We guarantee you will love it.
Card Print Making Worskshop
3rd Floor Classroom
Use colorful inks to stamp a card with whimsical animal images. Write a note and mail it to a new friend in the New Year.
The Happy Accidents Enloe High School Improv Troupe
3:00 p.m. – 5 p.m.
1st Floor Lobby Read more →
Henna Tattoos
First Floor Lobby
2:00 p.m. – 5:30 p.m.
Join India's own Deepika Bhatt for a beautiful tradition, and just in time to get ready for the New Year! Read more →
Film Series: Changeover & There's My Angel
WRAL 3D Theatre
7:00pm – There's My Angel directed by Willie Hodges Screenplay written by Dilsey Davis.
9:00pm – Changeover by Estes Tarver

Animal of the Hour
"Windows On the World" on the 3rd Floor
2:00 p.m., 3:00 p.m., 4:00 p.m. & 5:00 p.m.
Get up close and personal with some of North Carolina's resident creatures. Read more →
Recharging Station
Bring your electronic device by and get a CHARGE to keep up with all the action!  Sponsored by Fidelity Investments Read more →
Media Sponsor: Yelp.com
N.C Museum of History
Nail Yeah! 
Demo Gallery (1st Floor)
Crystal Clark, master nail artist will be teaching the tricks of the trade. Decorate your nails for this festive evening.
Toddler Play Area with Arts Together
Longleaf Room Area (Ground Floor)
This special room is designed for our youngest attendees to get out of the strollers and into the fun too!
Weaving Demonstration
Weaving Demo – See what it takes to weave the cloth you wear everyday. Victoria Sowers will demonstrate her weaving know-how.
Joystick Decorating
Decorate your very own Joystick (magic wand) with color and ribbons to wave in the air and welcome in the New Year.  
Puppet Making Workshop
Use paper and stickers to make a puppet friend to dance with you this New Year's Eve.

Daniels Auditorium Workshops, Demos, and Performances:
2:30pm – Harmony Singing Workshop
Harmony Singing Workshop with one of the finest vocal teachers in the area…learn how to sing all of those parts that you hear in music—you will leave with a new skill or improved skill in singing into the New Year. http://www.lbhvocalstudio.com/

3:30pm – Presley Barker Guitar Demonstration
Featured on UNC-TV –this award winning 11 year old Bluegrass Musician will delight you with his guitar licks. Find out how he did it himself! https://www.facebook.com/pg/presleybarkermusic

4:30pm – Ken Waldman, Alaska's Fiddling Poet Demonstration
A former college professor with an MFA in Creative Writing, he's been a visiting writer at nearly 100 colleges and universities,
a visiting artist at over 230 schools in 33 states, and has led workshops from Alaska to Maine.
As a performer, he's played from the Kennedy Center Millennium Stage to Berkeley's Freight and Salvage, occasionally
as a soloist, more often as leader of one of his ever-changing troupes of nationally recognized musicians.